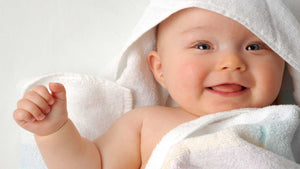 Your Ultimate Checklist of Baby Essentials
Babies don't necessarily require a spacious closet or a very luxurious set of items to stay healthy and well. However, there is an essential list of needs that would guide new parents with possible ways to welcome their newborn child.
As refreshing as the news to welcome a new family member is, the pressure of creating a space among many other things could be overwhelming for the parents. From building up a small nursery to collecting the essentials for baby's utmost comfort can be time-consuming and tiring, if not planned. These essentials include items for eating, sleeping, bathing, and diapering.
To set up and plan for them can be challenging. And so, the ultimate list of baby essentials, as a result, might come off as a bit of shock to the parents-to-be. Trollypk.com is offering a wide range of variety of these essentials. You can check out what the website has to offer here.

Here's a list of essential you might want to check out!

It is exceptionally crucial to adjust the baby's body temperature to the right amount of warmth. Rompers and sweaters are essential sources to help with that, especially if the baby is due in the winter season. There are hand made rompers, sweaters, hoodies, booties, caps, and cardigans available on the website that you can add to your cart. All of these kind of products are hand knitted with much care and love by Trollypk's Mum's Workshop.
Bonus: Special Baby Skincare Imported Turkish Wool is used for knitting to protect against any harm to your baby's skin.
Multiple night time feedings and check-ins are a reality for parents of newborns. The use of a softly-lit night light will keep you from tripping in the nursery, or unnecessarily waking your sleeping baby by having to turn on the overhead light.
It is also essential to illuminate the changing table for midnight diaper changes.
Yellow Duck Night Light prevents your child from crying when he or she wakes up at night by recognizing a familiar environment.
This is the modern-day replacement for plate and spoon for feeding your baby. Simply fill the silicone spoon feeder bottle with the pureed food and gently squeeze until the desired amount collects on the spoon to feed the baby. The tool is beneficial and can store food when required.
The protective cover keeps food from leaking, making the squeeze feeder ideal for travel. It's perfect to feed on the go and it's definitely a lot less to carry with compared to plates, lids, and spoon.
Although not everyone knows what mittens are, but trust us they can save 100's of broken milk bottle nipples. These silicone teething mittens gloves can easily be worn by your child during the teething phase or could just end a silly habit of keeping their hands in their mouth.
These are food-grade silicone which has exceeded safety testing and are BPA free. Stays on baby's hand comfortably with a secure Velcro strap.
This baby bath blooming flower is a modern beautiful bathtub for your newborn to give your baby a bath in the best way. It is a great alternative to traditional baby bathtubs with Front side short plush, backside mesh, filling sponge super soft and cuddly material to keep baby happy and comfortable during bath time.
This foldable lotus shape cushion with flower petals design fits almost all sinks optimally. It is not just for a bath, but also can be a game cushion when your baby is grown up. So, lets your your newborn baby bath safely.
Baby sets are so great! We all love coordinating our outfits, what about our kids? Trollypk.com offers luscious high-quality material baby sets. They color coordinate, are soft to touch; probably the best choice for your baby's outfits.
As a matter of fact, these baby sets can be perfect to dress up your infant for a small occasion etc. as they are stylish, warm and have made from the finest quality wool.
These custom designed fruit pacifiers are a must-have for your Baby. This incredible pacifier allows your baby to suck on fresh fruit, safely. You simply put a piece of fruit inside the nipple and as your baby sucks and chews, the juices from the fruit will come through while keeping large pieces safely inside the pacifier. This is a great way to get fresh juice and fruit into your baby to help keep them healthy and growing strong.
It's also a smart alternative to a teething toy. Baby's food feeder is simple to use and easy to clean. This is a delicious teething fruit food pacifier, your baby will not put their hands on the mouth. Make your children away from bacteria.
On this list, the most essential thing is baby nappy cover briefs. These cotton briefs are designed to cover for your little one's pampers etc. This 2 pack of baby nappy briefs adds oomph to your baby's everyday basics. These baby briefs are produced using soft and lightweight organic cotton to ensure they stay comfortable throughout the day.
So what are you waiting for? Pick up your phone and start shopping today!
The website also offers a plethora of other grooming products that you might be interested in. Visit https://trollypk.com/ NOW to browse through similar options on the site. 
Trollypk.com guarantees a smooth customer experience and exciting discounts that you can avail from time to time, making your experience worth a while.
Happy Shopping!
---