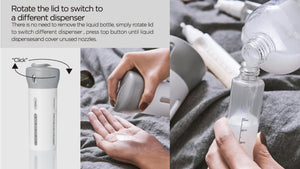 Smart Travel Companion 4 in 1 Bottle Dispenser Set
Travel means leaving the luxury and comfort behind and experiencing new and different things altogether. Usually when one travels; he takes along all the stuff which can make the journey comfortable yet enjoyable.
Let's face it: packing your toiletries is not the smoothest thing on earth. Traveling with separate containers consumes valuable space and the containers often leak. No matter how organized you try to be, keeping track of too many containers can be difficult. 
It doesn't matter whether you're a seasoned world traveler, or someone who just enjoys frequent weekend getaways, your excursions and jaunts are about to get a whole lot easier! No more lugging around container after container of shampoos, conditioners, lotions, or body wash, with the 4-In-1 Travel Bottle you can combine four of these necessary bottled items into just one handy container!
This revolutionary device is a convenient, safe and stylish means to transport your shampoo, conditioner, body wash, lotion and other liquids while traveling. Remarkably designed, this handy bottle is durable enough to handle any situation, from globetrotting to weekends at the campground and everything in between, this travel bottle has got you covered! 
No More Stressing
At times, it has been observed that the travel is short termed, and there are luggage limitations also. It is much of a hassle to carry big bottles of lotions, or other liquid commodities for self-care. At that time this bottle dispenser becomes a must have and a need of time.
Forget about TSA and their rules! These bottles cover each and every requirement. At just 1.4 ounces per bottle, you won't encounter any trouble getting through security.
Easily Refillable
This dispenser has 4 small bottles inside to be carried at once yet store in 1 big bottle. Each bottle is easy to refill and dispense and has a screw top to prevent leaks and an insert in the mouth to control how much liquid is squeezed out.
The 4-In-1 Travel Bottle is sure to be your go-to travel accessory! 100% leak-proof and Eco-friendly, as it can be used over and over again!
Make The Travel Comfortable
No need to remove liquid bottles, just rotate the lid to switch between different dispensers. You may find other gears with the similar function, but not cute, convenient and exciting like this one. 
With all these amazing features, this product is a MUST HAVE to accessorize yourself at ease and feel just like at home.
Why choose this product over others
There are a lot of products available in the market which make travelling at ease. Choosing this 4 in 1 dispenser set is what Trollypk recommends. As it is eco-friendly, easy to carry and plus prevents any leakage.
Road Trips, Camping, Airlines, Gym; pretty much anywhere you go, you'll need this bottle as a companion!
Happy shopping! 
---