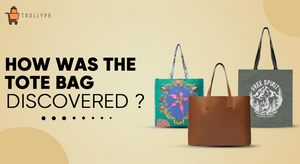 Tote Bag & Types ; For Shopping | Picnic | Casual use
In other words, the tote bag meaning is  "to carry". In the 1940s, people struggled to carry their luggage from one place to another place. Then LL Bean created the first cotton bags for carrying Human basics necessities like ice and woods. Although the Blue tote bag has been an important aspect of the fashion industry from back to now, In the back 17th century, If people wanted to take something anywhere, first they bought it and wore it around the waist, then used it according to their needs. However, they had an empirical use: they could be decorated with embroidery and Jewelry which is also recognized for the person's status and as well wealth.
How Tote bags made up
Tote Bags are made up of Polyesters, Fabric,  Nylon, and Canvas.
Let's have a look at some pros..
Polyester creates Tote bags strong and Easy to wash and Wrinkle resist.

Nylon made durable impacts with flexible, lightweight, and Moisture-resistant.

Canvas made it, Machine-washable stretches and Non-allergenic.
Types of Tote bags
There are lots of types of tote bags available in markets to use on different occasions.
Market tote
Beach tote
Work tote
1. Market Tote
A large bag with a pair of handles is examined as a tote bag. This is made up of sturdy cloth with leather handles and a bottom. However, it is found in different materials such as canvas and cloth. Market tote bag is one of the popular types of tote bags.
2. Beach Tote 
We need large bags for outings, especially when we are going to the beach. A beach tote is the perfect partner for the whole day. Although,  a large tote bag with small pockets is a perfect combination to carry your luggage.
3. Work Tote
Work tote names sound as the work tote is made up for office work. Sometimes, work tote bags have pockets to take electronics items with you such as laptops and tabs. On the other sides, this kind of tote bags have a small pocket to store Wallet, Mobile phones and other accessories.
Difference between Tote bags and Shopping bags
A tote bag (is also called a shopper) is large, which is made up of cloth along with two handles. Shopping bags do not have total interior and exterior pockets in it. It is used for shopping or traveling or to carry things from one place to another. However, shopping bags also play an important role in our daily life, women mostly use Handbags to carry personal things that are necessary for everyday life.
How and when to use Tote Bags?
A tote bag is usually worn with both straps and upon one shoulder. A tote bag comes with a simple structure of various materials, colors, and sizes, making it extremely versatile and able to be used on different occasions. Tote Bags are fit when you are going to the beach. You can just pick everything you will need, such as; towels, extra clothes, flip flops and everything you need and so much additional. It will fit everything you want
Conclusion
There are lots of varieties available such as; canvas bags, fabric bags, cotton bags. These are the kind of Tote bags such as shoulder bags that are easy to carry and easy to wear, and profitable to take your necessary stuff with you anywhere you want. However, you are going shopping, or leaving for the beach. If you are looking for Tote Bags? You are at the right place. Trollypk is providing its exclusive services with different kinds of Tote Bags.
Visit Trollypk.com to avail Sale on different trending products in Pakistan.
---