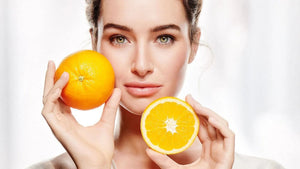 The Power of Vitamin C Skincare Products!!!
If you've delved into the wild world of skin care at all, you probably already know that finding the best Vitamin C serum for your skin can be an incredibly beneficial—and challenging—endeavor.
What is a Vitamin C Serum?
In particular, this antioxidant ingredient is great at managing hyperpigmentation issues and evening out your skin tone. With having abundant benefits; vitamin C products are used by all ages and is effective also for all ages simultaneously.
Scientists have proven how being an antioxidant it helps the skin replenish and grow healthy and delays the process of aging. Vitamin C acts as an antioxidant, which means it can help neutralize free radicals. These are unstable atoms that form as a result of exposure to environmental stressors like UV rays and pollution. Over time, free radicals can cause oxidative stress, which harms skin and can cause premature signs of aging. Using sunscreens daily along with a potent antioxidant like vitamin C is the best way to protect yourself from damage due to free radicals.
Why Vitamin C Serum?
First of all, it is safe for almost all skin types. studies have shown that vitamin C can prevent dark spots, reverse damage from UV rays and stimulates the growth of collagen. They can also result in a reduction of the appearance of fine lines, wrinkles, and hyperpigmentation for a more even skin tone.
Vitamin C Serum hydrates and brightens the skin likewise because if its power of combating melanin production.
Benefits of Vitamin C Serum:
1. It is hydrating
2. It is brightening
3. It helps fade hyperpigmentation
4. It reduces dark circles
5. It promotes collagen production
6. It protects against sun damage
Who can use Vitamin C Serum?
It is suitable for all ages and skin types but it best works on students and working women; who have a routine of exposure to Sun on daily basis. Because of its ability to protect from UV rays, it can be a magical product to use. Vitamin C serum is typically applied once or twice per day. A good rule of thumb is to cleanse, tone, apply Vitamin C serum, and then moisturize. It can be safely used in conjunction with other active ingredients.
Why Muicin's Vitamin C Serum?
Muicin's products are created after a lot of research and hardwork. The other products of this brand are bestsellers on our website and have got good reviews for Vitamin C as well; therefore; we can blindly vouch for Vitamin C  serum from Muicin.
Vitamin C can help heal blemishes, reduce hyperpigmentation, and give your skin an out-of-this-world glow.
Consistency is key for maximum effect, so add it to your routine in a way that makes sense for you. Some people apply it in the morning to take advantage of its UV-protectant properties, while others find that it works best as a night serum.
Visit Trollypk.com NOW to browse through similar options on the site. We guarantees a smooth customer experience and exciting discounts that you can avail from time to time, making your experience worth a while.
Happy Shopping!
---