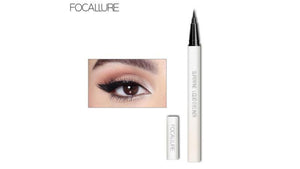 The Importance of a Perfectly Drawn Winged Eyeliner
In the past few years, the beauty industry has taken over the world. Everyone loves to get a little glammed up and, in that quest, we often find ourselves hunting down our holy-grail products, that are great to use and fall within our range. Right makeup products usually come with a hefty price tag. We might buy them once for the sake of trying new items, but we can't always afford to restock them.  
If you wear makeup every day, you must follow a routine and understand that each product is essential, be it mascara, an eyeliner, or a lip pencil. Some people stick to a handful of products and tend to do great looks out of them. For some people, an Eyeliner falls in the list of vitals that they must have at all times.
Who doesn't like a perfectly winged eyeliner to complete their look? Even though it requires great effort and precision, a sharp and identical wing is rewarding. Without a liquid eyeliner, you can't achieve the wing accurately on both eyes. To accomplish a great tapered wing, a waterproof black liquid eyeliner pen is required.
Not having an appropriate felt tip eyeliner could make it a nightmare to apply a winged liner. Therefore the first and foremost step before opting for the incredibly popular and trendy winged look is to find a waterproof black liquid eyeliner pen. 
Beauty shouldn't be a luxury, and we should all be able to find affordable, high-quality products. Hence, the ideal eyeliner is the Focallure Pakistan Superfine Black Liquid Eyeliner Pen, waterproof, smudge-proof and long-lasting that can stay for about 24 hours.
How to get a sharp as a knife winged eyeliner look
With the help of a good and easy to use eyeliner, the task of applying a winged liner gets even more straightforward than it already is. Grab your Focallure Pakistan Superfine Black Liquid Eyeliner Pen and draw a short line from the corner of the eye, and get it to you desired length while following the curve of your natural lower lash line. You can use tape if you face any difficulty making a sharp straight line.
Using the same Focallure eyeliner draw a line on your eyelid following your upper lash-lines natural curve. Start from the inner corner and make your way towards the outer corner. Next, you need to create a smooth line between the first short line you made and the line on your eyelid curve.
Lastly, all you need to do to achieve that fantastic sharp look is to fill in any gaps with the Waterproof Black Liquid Eyeliner Pen, and you are good to go, and flatter some people with your killing looks.  
We all know how a red lipstick screams bold and classic. Similarly, a winged eyeliner speaks volumes about you and your personality. Some winged liner can make you look aggressive and bossy while others can make you look dramatic yet fun. This is why an excellent waterproof liquid eyeliner and winged eyeliner skills are necessary, so you can display your personality without having to start a conversation.
Visit Trollypk.com today to grab your favorite makeup products today and browse through similar options on the site. We guarantee a smooth customer experience and exciting discounts that you can avail from time to time, making your experience worth a while.
Happy Shopping!
---