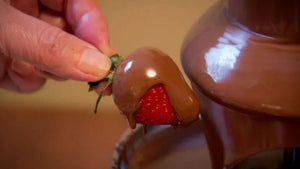 Serve this Delightful Chocolate Fountain Treat as a Host & Win Hearts!
If you have kids, you already know how difficult it is to accommodate them with each passing day. Birthday parties have become such a trend for the younger generation that they tend to be the most important day for them where they feel special. They are little, yet they want everything to be perfect from the food to décor, to their outfit. Latest trend you ask? A theme party! 
Add Extra Oomph to Your Table with the Chocolate Fondue
As a parent, it is challenging to fund, organize and at the same time, be super creative with such parties. Be it your kids' birthday, or some other life achievement celebration; a spread must look spectacular. So, what do you do to add that extra element to the table? It is not that difficult. You add a Chocolate Fountain. Yes! You heard that right. It is the ideal tabletop centerpiece for parties.
A chocolate fountain is usually everyone's favorite, from kids to adults; everyone loves them. The activity of dipping several fruits (berries in particular), marshmallows, cotton candy, and other things does the trick. If your child's birthday is around the corner, then you are in luck as Trollypk.com has 3-tier mini chocolate melting fondue available at a great discounted price. 
Adult Parties Can Have a Chocolate Fondue too!
It is not crucial that a chocolate fondue must always be present at a kid's party. Adults equally enjoy it too. Be it girls get together, or a casual hang out on the weekend with all your friends, chocolate fondue is fun to have on the table as it is enjoyable and also visually appealing. 
This particular product comprises of heat and flow settings which means you can easily change the temperature as you may like. There is also a light indicator that indicates if the machine is switched on or switched off. In case you wish to make any changes on the spot, you can conveniently do it.  
What Kind of Chocolate to Use?
On average, anywhere between 300 to 500g of chocolate is enough. It depends on how many people will be present during the meet up/party. Try to use good quality chocolate as it adds up to the performance of the machine and let's not forget, the chocolate must taste great, too. 
You must melt the chocolate before adding it to the fondue as solid chocolate might as well take longer to melt, which can result in some chocolate getting burnt. People often melt chocolate on a double boiler. In this way, you can mix two kinds of chocolates, maybe add a little milk or water, whatever you feel is required at this point as per your liking.
Pro tip: Instead of forks, add all your yummy goodies to skewers to make sure everyone gets a single serving size. Once you serve this delightful treat, you can wash the chocolate fondue easily. However, it is prohibited to place the body of the device underwater.  
Clean it nicely, dry other parts and store it in a safe place. So, what are you waiting for? Pick up your phone today and place your order now. The website Trollypk.com also offers a plethora of other products that you might be interested in. 
---