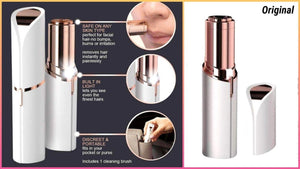 Regain Your Confidence & Become Flawless With This Smart Tool Today!
Makeup has become a significant part of people's lifestyles today. To achieve perfect skin, ready to be lathered with expensive foundation and concealer, many pay a substantial sum of money for specific painful procedures to remove excess hair on their faces. Among many methods, the most popular ones are laser and electrolysis, both painful and heavy on the pocket. 
Even if you don't fancy makeup enough, just having soft baby skin without hair pricking is such a delight. Excess hair or peach fuzz on your face can jinx your self-esteem and confidence, significantly impacting your life quality. To achieve a clear canvas, you must get rid of the excess hair on your face. 
Still here? Want to add another simple step to your skincare routine? Then keep on reading. 
If you follow a busy schedule and you have no time on your hands or in other instance, you can't afford these hefty procedures, then "The Finishing Touch Flawless Hair Remover" is just the product for you. It is pocket-friendly and, most importantly, not painful at all.
You can carry this device anywhere in your handbag, as it requires little space. Professional threading is excellent, but you opt for options to use on yourself without exposure to the virus in public during the ongoing pandemic. 
If you spot a hair or two on your face before an important meeting or right before a date night, don't worry! "Finishing Touch Flawless Hair Remover" will prove to be your best friend. Use the device instantly and make the most of a beautiful night or a golden opportunity. 
Here are a few essential things to know about "The Finishing Touch Flawless Hair Remover."
1- The Finishing Touch Flawless facial hair remover can be used every day, anytime, and anywhere.
2-  The the device is capable of removing peach fuzz and other prominent hair on your face instantly.
3- It is not painful at all to remove hair with The Finishing Touch Flawless Facial Hair Remover. 
4- After using the device on your skin, you will not feel any irritation.
5- Discreet and portable, with 18k gold-plated head that's hypoallergenic – highly unlikely you will experience a reaction of any kind.
6- Built-in light to show even the most delicate hairs, so you don't miss any.
7- The device requires a 1 AA battery to switch on.  
Here are some precautions to keep in mind:
1-  Make sure you keep out of reach of children as the device can be harmful, if placed in the wrong hands. 
2-  Discontinue using the device if you feel your skin is getting irritated. See a
dermatologist in case of a reaction, which is unlikely to happen.
3- Exercise caution when using around eyes as this area is particularly sensitive. 
4- Do not rinse the trimmer head underwater as a battery powers the device.
5- When you are not using the device, try to store it in a cool, dry place.  
What are you waiting for? Regain your lost confidence and add years to life by being satisfied fully with how you look before leaving the house. The Flawless Facial Hair Remover is available on Trollypk.com at a great price. 
Pick up your phone today and place your order now. The website also offers a plethora of other grooming products that you might be interested in. Visit https://trollypk.com/ NOW to browse through similar options on the site. 
Trollypk.com guarantees a smooth customer experience and exciting discounts that you can avail from time to time, making your experience worth a while.
Happy Shopping!
---