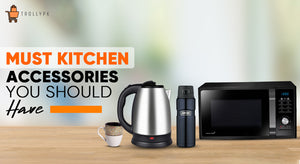 6 Kitchen Accessories You Should Have
No matter, How small your kitchen is? It is all too easy to exhaust the storage space! One of the simplest ways to optimize the storage ability of your kitchen is to install the right accessories in the right place of your kitchen. At the same time, these kitchen accessories improve the features of your cooking space and your cooking style as well!.
To help you make your design decisions, we have listed some items that must be in your kitchen. These will help you in enhancing your space utilization. These kitchen sets are the most helpful for cooks. You fall in love with cooking with these accessories.
1. Basket for Kitchen
One of the essential accessories in the kitchen is the kitchen basket. It must be in your kitchen. It will help you to arrange kitchen items such as; jars, pots, pans, and crockery items cleanly. Likely, arrangements make sure the acceptable use of the space as well. You can use different kinds of baskets in your kitchen, shallow and deep storage according to your needs.
2. Plain baskets
Plain baskets are mostly used; specific baskets like the saucer and cup baskets, racks, plates, etc. are easily reachable. These plain baskets are usually made up of stainless steel or wire. They come with simple and attractive designs and predetermined shapes and sizes. Each of them has recommended loading capacity.
3. Pantry Units
A pantry unit is essential for kitchen accessories; it must be in every kitchen. A pantry unit can be used to store all your indestructible items in one place. A well-designed- pantry optimizes every single inch of storage space available. It contains slim storage for bottles and cartoons on the inside of the doors. For more oversized items, shelves and deep pull-out boxes are available. You can use out the unit according to the design of your kitchen. However, if your kitchen allows tall size pantry items, it will be best if you can store more items in an optimized way.
4. Pull-Out Shelves
These shelves are usually made of wire or stainless steel. They are fixed to the inside of the shutter and come out along with the shutter. Or they can be set with the sides of the boxes and pulled out one by one. These can be carried out to items from giant ornaments to small bottles of syrup.
5. Kitchen Trolley
All of the above accessories are necessary to be in the kitchen. But Kitchen trolley has played an essential part in kitchen accessories. However, regular baskets or drawers may not be able to take heavy loads. For bulk storage, select kitchen trolley accessories that Kitchen trolley can be fitted in the cabinets.
6. Carousel units
Carousel units get the best use of touchy corners under the counter. They maximize the storage and improve efficiency. Carousel units rotate on a central pivot and can be easily accessed without bending and reaching right in.
Some of the other kitchen tools are listed below.
Coffee beater

Tissue dispenser

Steel bartan

Chef basket

Water bottle pump

Honey bottle

Steel bartan

Plastic bartan
Visit Trollypk to avail Sale on different trending products in Pakistan.
---