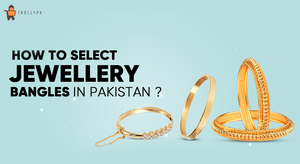 2 Important Tips to Choose Jewellery Bangles
Select a bangles for yourself or as a present, However,  jewellery bangles add a final look of style to your wrist or also for those whom you gift.
In contrast, necklaces that women can only be well worn with specific necklines that utterance their shape and length can be easily worn with almost every outfit, long sleeves or short sleeves; they look pretty on both of them. Even Now, bangles and bracelets have exclusive looks.
A bangle has a particular shape, meaning on or off the wrist. The jewelry will give you the same look. At the same time, classic bangles have not much funky designs and are made up of simple methods. On the other side, modern bangles are made up of different formats, clasps, and easily bendable metals. Additionally, bracelets have a loose-fitting tied up with the chain and clutch with the clasp. Although, bangles paired with different types of designs on them. These designs and art on bangles make them stand out from the crowd. This is one of the main reasons that their solid structure keeps them Independent from other jewelry—anticipated due to their various wear ability. Let's have some knowledge of the bangles.
Almost all of us, the jewelry we wear during office timings is what we wear most often. If you are doing a traditional nine-to-five or upbringing your career, It is most vital that you look well dressed and polished through Monday to Friday.
However, If you wear a traditional dress or heels, something like a business casual, it's not just necessary to wear classic and fashionable clothes. You have to  wear other accessories that increase your personality.
Tip No 1. Measure a Size.
Before buying, first, you have to know, what is the size of your wrist? To measure your wrist do this with a measuring tape. Any of the styles you select, half of the inch or 1.5 inches larger. The larger the size, the greater the look it will have. But be sure; too much drape and the bangle will slide off. Additionally, understand the relationship between your wrist's width and size. However, narrower, smaller wrists should stay away from the large bangle.
Tip No 2. Select a Style.
Are you a bangle person? Do you wear simple bangles?
Although, bangles come in different styles and varieties. All of them have their own variant of the type. Beautiful and straightforward bangles have been on-trend for the past few decades. Their casual looks make you more stylish, or if you want to gift someone or want to wear, this is something great to present to your loved ones or wear yourself.
Conclusion
If you are planning to gift someone this is the best option? For choosing jewelry bangles you have a lot of options for yourself and your loved ones on Trollypk. 
---