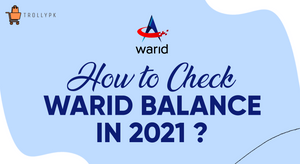 How to Check Warid Balance With Codes In 2021
Are you a Warid user, looking for the essential Warid codes? Stay with us at the end!
Pakistan Telecommunication offers a lot of Networks in Pakistan. All of them are different service styles and policies. Different areas peoples use their communications network according to their needs.

Mobilink and Warid officially merged under the brand name "Jazz". Because of the merger, Jazz became the largest local telecom brand in the country. It has over 50 million subscribers who swear by its service quality!
 
No worries! Here you can easily find your desired codes.
Steps to Check Warid Balance
Here you know to how to check the Warid balance.
Open your Phone Dialer.
Code to dial: *111#
Price: Rs.
0.20 Plus tax,
| | | |
| --- | --- | --- |
| Name  | Price | Code  |
| Check Balance | 0.20+ | *111# |
How to Check Warid Postpaid Balance
Check the balance of your Warid Mobile connection with the following USSD code *111#. Simply dial *100# from your mobile phone, and you will see the balance on the screen of your mobile phone.  
| | | |
| --- | --- | --- |
| Name  | Price | Code  |
| Check Balance for postpaid | Free of cost | Type 'B' send it to 321 |
How to Check Warid Postpaid Bill
To check your postpaid bill via email, just type E bill<space>D<space><email address> and send this to 129. You'll receive your bill plus invoice details in your email. This query will charge you Rs. 2 + tax.
Warid to Warid Balance Share
When you and your friend need credit. Ward is also offering an offer of service for balance sharing to your family and your loved ones. Follow these steps
Use your phone to dial *100*number*amount#
You'll get a response pop-up message, reply to that with 1.
Charges for this service are Rs. 4.76
Jazz to Warid Balance Share
Go to the Dial pad option on your mobile.
Dial code *100*<9230XXXXXXXX>*#
As a reply to this message, you will be asked if you want to confirm the transaction.
Press 1 and reply back.
Warid Helpline Code
You can call 24/7 to solve your query any time from the customer service representative at 321
How to check the remaining Internet status?
If you've chosen one of the Ward internet packages and need to check its status or remaining MBs, then just dial the Ward MB check code 2021 for that package.
Here are some details for inquiring about your Ward internet MBs on mobile for a particular internet packages
Packeges and Codes
Daily Warid Internet

*114*14*2#

Warid Balance Check

*100#. 

 

Warid Daily Browser

 

*117*11*2#

 

Warid Hourly Extreme   

*117*24*2#

 

Warid Weekly Extreme Internet Package   

*117*14*2#

 

Warid Postpaid Monthly Streamer Internet Offer   

 

*443*2#

 

Warid Monthly Browser Internet Package   

*117*31#

 

Warid 3G/4G Data Add-On 1   

*443*2#
Wait for a bit after dialing the code to check your remaining internet status. The service will send you a message within seconds, updating you on your internet package status.
For more information How to register phone with PTA click here!
Visit Trollypk to avail Sale on different trending products in Pakistan.
---