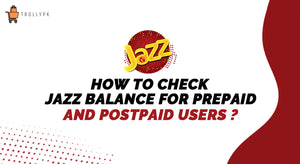 How to Check Jazz Balance for Prepaid and Postpaid Users?
Are you worried about How to check Jazz Balance? Don't worry, and you have landed on the right post. This post covers all the necessary things for Jazz customers. However, many people face difficulty while checking their balance; they don't remember the respective codes provided by the facilitators. We have listed some essential codes for Balance check and necessary packages codes for you!. Jazz users can dial  Unstructured Supplementary Service Data (USSD) code. These codes will be dialed from any IOS phone or Android phone, and companies' responses will appear on the phone.

But for that, you have to stay with us at the end!
Nowadays, having a reliable connection is essential for all. It would be best always to have full signals for cellular, SMS, or calls with no disruptions. For that comfort, one of the leading telecommunications service providers provides you with high Internet service and a good network all over Pakistan.
Let's get to the point directly....
How to Check Jazz Balance for prepaid?
To check your remaining Jazz balance, you need to dial *111# and press the thumb to send. Shortly, the remaining balance will appear on your mobile screen. However, you can also check your Jazz balance from *444*6*2# for an immediate inquiry.
Jazz balance Check Code
| | |
| --- | --- |
| Code | Charges |
| *111# | Rs 0.24 |
| *444*6*2# | Rs 0.24 |
How to check Jazz balance for postpaid?
Do you have a postpaid Jazz sim? And want to know how to check Jazz balance for the postpaid sim. So you can check quickly with the following code.
Dial *2222# to check the remaining SMS , Minutes, and MB's of your jazz balance for the postpaid sim.
Jazz Postpaid Code
How to share balance?
Indeed! You are in need or anyone in your circle, credit is essential to fulfilling your desire. Jazz values customers and provides a facility to share balance. Now you can share balance with the following Jazz balance share code.
Balance share Jazz Codes
Quickly transfer and share your Jazz balance with family and your loved ones by following these steps below:
Dial *100*03XXXXX*amount#

Dial *100*<9230XXXXXXXX>* amount#

Charges Rs 4.77 + Tax/Transaction.

Max Share Limit Rs 500/Transaction.

Max amount transferred per day Rs.500.
How to Check Jazz MB?
Jazz offers high-speed 4G internet facilities with economic data plans and internet packages. With the regular internet surfing, checking how many Jazz MB's you have remaining is necessary. Jazz offers a simple way to check your remaining Jazz MB's. You have to add *2# at the end of the subscription code of your subscribed package.
How to Check Jazz's remaining MB'S ?
| | |
| --- | --- |
| Jazz Internet Offers | Jazz MB Check Code 2021 |
| Monthly Super Duper | *706*2# |
| Monthly Super Duper Plus | *707*2# |
| Weekly Super Duper    |   *770*2# |
| Monthly Mega   |   *117*31*2# |
| Monthly Mega Plus | *117*302*# |
| Daily Social | *114*2# |
| Daily Whats app Offer | *3112*# |
How to Load Jazz Cards?
In the end, if you want to load your Jazz card, you have to follow these mentioned steps.
Open the Dialer of your phone.

Dial *123#, then put a 14 digit number from your scratch card and press # then send.

You will be informed of the Jazz recharge notification shortly.
You can avail your best offers in Pakistan from Jazz. According to your needs such as Jazz 4g Mobile data, SMS packages and Call packages. Visit Trollypk to avail Sale on different trending products in Pakistan.
---