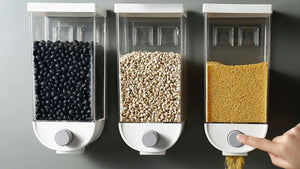 How is a Kitchen Dispenser Storage Tank Best for Organising Purposes?
The idea of having an organised kitchen is a dream for everyone who loves to cook. We all love a neat and tidy kitchen, because that is where the magic happens, and all the delicious meals are cooked. None of us can afford to have dirty and unorganised kitchens, especially when you are a food lover. There are ways to clean up and arrange your kitchen in a manner that looks appealing, as well as classy and elegant while also being functional. One of the best technique to achieve that ritzy high-class look is to get kitchen dispensers installed. Kitchen dispensers can be used for cereal, rice, lentils, and all the other kinds of grain.
How is a Kitchen Dispenser Storage Tank Best for Organizing? 
Provides Extra Space
A wall-mounted rice and cereal kitchen dispenser is the ideal approach while organizing a kitchen; they provide extra space while making your kitchen look more systematic and groomed. This is because they do not occupy any area on the shelves and give a little empty place to keep all your other kitchen essentials, without making the kitchen look messy.
Airtight Jars
Each kitchen dispenser is attached to an airtight jar to store the cereal and other grains, which means the food put in them remain fresh and crunchy for a very long period. However, when we talk about rice, lentils, and cereal boxes, they aren't airtight, that means they can quickly go bad and can catch pests. These jars are moisture and dust-proof, which does not allow even the tiniest of a particle to enter the container if appropriately closed.
They are quick and convenient
Kitchen dispensers not only make your kitchen look smarter, but they are an equally efficient way of grabbing your favorite cereal bowl in the morning. The reason why they are considered to be quick and convenient is that you no longer have to worry about shaking a box of cereal and finding out you are left with only a spoon and some crushed pieces of cereal early in the morning. Similarly, trying to measure and take out the rice and other grains from jars, boxes, and packets seems way more problematic than using a kitchen dispenser.
Makes your kitchen look spacious and tidy
When it comes to wall-mounted kitchen dispensers, it is safe to say that they make a huge difference in your kitchen. They make it look way more clean and spacious, all while maintaining the quality of your food. Moreover, they make you and your kitchen look more efficient and chic.
Can hold all types of food
A kitchen storage dispenser can efficiently store almost all the dry items that you wish for. These can be your favorite candy, grains, rice, beans, cereal, oatmeal or just some healthy dry fruits. Each jar has a capacity of about 1.5 liters, which is more than enough to store your food.
A kitchen dispenser storage tank is an ideal way of combating stale food as they are airtight and leak proof. Moreover, kitchen dispensers are often transparent, which makes it easier to keep a check on supplies.
However, while buying these storage containers, it is necessary to keep a few things in mind. Consider the size of the jar, and based on your required, get the one that suits you best. A wall-mounted dispenser is not only trendy but modern, and is enjoyed by many people. 
Where Can You Get it From? 
Obviously, from Trollypk.com. What are you waiting for? Pick up your phone now and order away!
Happy shopping! 
---