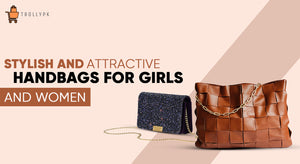 Stylish & Attractive Handbags for Girls and Women
In the previous decade before the 1700s, men and women both had the pockets that used to carry their stuff. While men used to hold items worn on their waist, women have big dresses and multiple layers in their dresses, so they quickly take the things under the layers in their pockets. Now women carry hand bags to meet their needs and to look attractive.

Kinds of Handbags
What are the Handbags?
Handbags are the small stuff keepers women use when they go outside to carry stuff like Keys, Money, Mobile phones, etc. there are many types of bags such as; handbags for girls, shoulder bags, tote bags, etc. 
Accordion Handbag
According to their design and need, the accordion handbag comes with a long or short strap to be easily carried by hand or worn as a shoulder bag. The length of the bag and size of the belt varies because accordion handbags are used to make their sides expandable—such kinds of handbags that have extra material and are used according to the stuff.
Basket Bag
The bag that reflects its name itself, The Basket Bag is also called a Straw Bag, was made famous in the 70s; it got fame when Basket bag saw it multiple times on one of the most famous photographers worn on the arm of Jane Birkin. It became the Fashion symbol of that decade
Box Clutch
Although this is not technically a clutch bag, it has a very trendy look. It might also be called handbags for girls, which is small and seems like a rectangular box. It is manufactured like a mini briefcase, structured as classic clutch styles, and has a small handle
Bucket bag
The Bucket bag is a perfect choice when you have to carry small stuff, and it is one of the most famous handbags, Louis Vuitton created it. However, it is also used for carrying luggage from one place to another. The bucket has been made in many sizes and styles till now. 
Canteen bag
The canteen bag is also known as a small canteen; it resembles a canteen or flask. Usually, handbags come with long shoulder straps and attractive looks. They are still stylish when they became trends in the 2010s because they are casual handbags that look simple and attractive.
Conclusions
These bags are mentioned above literally, usually worn as shoulder hand bags and it is also Fashion symbols for girls and women. What if you find this with the best quality and attractive looks? So, Trollypk is providing you a stylish Handbag for girls and women.
Visit Trollypk.com to avail Sale on different trending products in Pakistan.
---