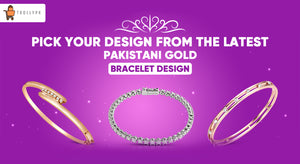 6 Types of Stylish Ladies Bracelets
Bracelets are likely considered as understate in the world of accessories as compared to other accessories. Madness and genius are two sides to the same coin. Putting on bracelets on your hand adds a final look to your appearance. They are simple and stylish and give you a frisky touch or otherwise simple appearance. Bracelets are available in different categories like Gold bracelets designs, Friendship bracelets designs, and handmade bracelets.
Did you know?
The word 'bracelet' arises from the word 'brachium' which in Latin terminology means 'arm'.
There are some elegant types of bracelets for women who love to evaluate
1. Charm Bracelets
Charm bracelets describe its category itself, they are attached with small charms. Such charms are created with gold and silver. Ladies bracelets trend blew up in back 2017, when gold bracelets or silver bracelets came with attached charms, Likely, written names, shapes, funky styles, or zigzag designs and many more.
2. Interlocked Chain Bracelets
These Bracelets are the most usable by women in daily life. They are created by connecting metal links in countless sizes and shapes. Sprinkled with diamonds or stones.
3. Bangle Bracelets
These bracelets are available in various kinds which are made up of different bangles stuck together. Within easy reach in a mixture of different materials- wood, metal, or plastic. Nowadays, these bracelets are more popular among young girls. Although the best part is you can find different bracelet designs and variant colors.
4. Cuff Bracelets         
Did you Know? These types of bracelets are influenced by Egyptian design. These bangles are formed in a half-closed bangle style. You can adequately adjust the sizes and However, they are easy to wear. They are normally created of oxidized metal and have elegant patterns engraved on them.
5. Beads Bracelets
These stylish bracelets are famous for ladies bracelets and girl's bracelets. They are crafted by hamps, string, or wire in which metallic, plastic beads, are fitted or woven. These types of bracelets are available in both simple and funky designs. While the simple one is made up with single strings or other bracelet designs have numbers of strings attached in the form of single bracelets.
6. Tennis Bracelets
If you are into buying beautiful Jewellery pieces made up of Platinum or Silver, you definitely cannot miss out on these types of bracelets. Tennis fancy bracelets are in the shape of diamond or precious stones studded wristbands. They're generally available at slightly higher prices but are totally worth it, especially for their elegance and royal look. These designs are inspired by the bracelet a famous Tennis Player, Chris Evert used to wear, in her matches.

Conclusion
These above-mentioned bracelets help you to select the best design to wear on hand. Bracelets give you the final look of your personality. You can find these types of bracelets on Trollypk.com. However, it's not pleasant to find these types of bracelets at your doorsteps.
Visit Trollypk.com to avail Sale on different trending products in Pakistan.
---