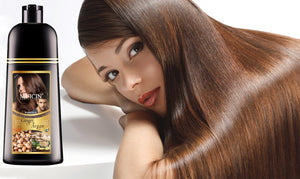 Dye Your Hair Instantly with Muicin Hair Color Shampoo at Home in 10 Minutes!
The new Muicin Hair Color Shampoo has taken over the market and is selling quickly for its numerous special qualities. The first thing to know is that this shampoo is the best for anyone looking to change their hair colour to a beautiful and subtle brown or black in an instant!
It is almost magical how quick and effective this product is. Not only that, but it is good for frizzy or damaged hair as well since it has conditioner in it. It repairs dead ends while simultaneously colouring the hair.
This product is perfect for anyone and everyone who is in a hurry or does not have time or doesn't want to make an effort to go to a salon because their schedule is busy. One can easily buy themselves a bottle of this magical shampoo which is available on Trollypk.com (available in both; black & brown shades) and dye their hair from the comfort of their home at a great discount.
In fact, after the pandemic, a lot of people prefer doing basic things from home rather than in crowded places such as hair salons where they are vulnerable to the virus. 
Here are 5 reasons why you should consider getting this amazing shampoo for yourself:
Muicin Color Shampoo Is 3 in 1
This product is famous for working as a shampoo, conditioner and a hair dye! It's 3 in 1 quality is what makes it so unique and effective for dyeing as well as for hair loss. The shampoo and conditioner provide the necessary nourishment to your hair, while the hair dye colours it a beautiful black or brown shade. What more could one want?
It's Full Coverage - No Scalp Stain
Another thing that will not make you regret buying this shampoo for yourself is that it gives full coverage. This means that it will cover any white or grey hair that may be present, and the hair dye within the product will colour-coat them fully. No more hassle for the next 6 weeks!
Ginger And Argan Oil Nutrients
The shampoo consists of ginger and argan oil which provides the right kind of nutrients to the dry scalp. In addition to this, both the ingredients are gentle on the scalp and give it the right moisture that it requires. They strengthen the hair from the root to the tip!
A Quick Fix - Instant Hair Color
A remarkable feature of this shampoo is that it is a quick fix for your hair dyeing needs. It colours the hair in about 5 to 10 minutes while also making them smooth and shiny. It is quite convenient for anyone who does not want to visit the professionals and waste hours and hours getting their hair done. Especially for working mothers, it is like magic in a bottle. (Note: The shampoo is designed to be used for both men and women)
Muicin Color Shampoo Is Long Lasting
In a mere few minutes, one can get their hair dyed with the help of the Muicin shampoo for it to last a long time. The nourishing formula gives the hair a kind of therapy and the colour lasts up to six whole weeks!
So what are you waiting for? Buy Muicin Hair Color Shampoo and make your life easier. No need to hide greying hair anymore when you can just colour them at home in a span of 10 minutes! Go grab your bottle now and enjoy a fuss-free experience.
Trollypk.com has some other great self-grooming products that you might as well want to check out on their official website. Visit the website today and get your hands on amazing grooming products to find out what works best for you!
---