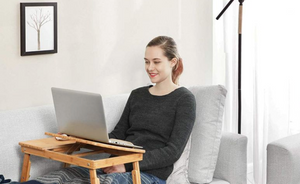 Buy Portable Laptop Table & Stands From Trollypk.com
Who would have thought we would be stuck back home for the past six months because of a deadly virus. The pandemic has wreaked havoc in our lives and has forced all of us to stay back home. This has resulted in restricting our movement greatly. 
For months governments across the world had imposed strict lockdowns to curb the virus. Most of us have been working remotely from the beginning of this year and will continue to do so for the rest of the year too and maybe even more, given the seriousness of the condition.
With work shifting online, employers have been emotionally and physically exhausted. While employers should consider the drastic change of the daily norm, employees can do a few things back home to easily slip into new ways of life. 
Are you someone who is sick and tired of working on their bed or the couches? Has your back given up on you? Do you want an office-like setting that can fix your posture even while you work from your bed? If the answer is yes, keep on reading.
Working in unusual conditions can result in bad posture. On top, it can disturb your sleeping patterns too. Since our movement is also restricted greatly, it is best to find ways to fix our lifestyle patterns.
Our popular products that can help you greatly while you're working on your laptop are portable laptop tables that can be set anywhere in the house, in your gallery or otherwise on the rooftop too so you can work in peace.
Trollypk.com is offering such products on a great discount.
This Multi-function portable foldable laptop table could be used as your laptop holder, bed table, reading table, and many more. You can easily carry it with you while you are travelling. Perfect for sofa, bed, car, floor, or elsewhere.
The table comprises of dual cooling fans powered by USB, and excellent cooling performance USB interface. It is made up of ABS plastic material with metal inside the legs.
This laptop stand is a multi-function notebook desk which can be used as a portable laptop table, laptop holder, bed table, reading table etc. It is a great option if you are in your car and or travelling through air, sea, or road.
The table also comprises of cooling fans powered by USB which has an excellent cooling performance USB interface. The USB cable is included.
More great things include adjustable height for your back support and right posture while you are working on an important project or trying to meet a deadline.
You can set this table up within seconds as it is a foldable desk with legs, small in volume, easy to work with. Suitable for all size notebooks. Legs adjustable to any comfortable angles 0 to 30 degrees.

Convenient plug into any 12V cigarette lighter in a car, boat or a standard wall outlet in home, dormitory, office.
This wooden laptop table with portable cooling fan can be used conveniently in your house. It can fit under your bed easily once you're done using it. 
Plus, if you have a wooden furniture, this laptop table would rather add oomph to your setup and become a intricate part of your room. 

Trollypk.com has a wonderful collection of laptop tables for you available on a discounted price which you can order online on any given day.

Still here? 
So what are you waiting for? Avail wonderful discounts now! Pick up your phone go to www.trollypk.com and start shopping today! ✓ Genuine Quality Product ✓ Fast Delivery across Pakistan ✓ Cash on Delivery!
---