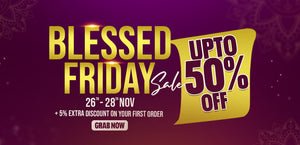 Blessed Friday Sale in Pakistan 2021
This year, in Pakistan, the Blessed Friday date will be celebrated on 26th November 2021. Trollypk sales will start from 26 November, and end on 28 November. This one day will be blowing up with even more opportunities to shop for less and at surprising discounts.
Basically, Blessed Friday is an alternative to Black Friday, in Pakistan it is an occasion celebrated with the same 'shopping' zeal and zest as anywhere in the world. 
Blessed Friday Sale 2021 – Sales, Deals, And Discounts
Coming to the list I am sure you all are here for. Let's take a look at all the brands which are Trollypk offering deals or discounts for the shopping festival this year. You can pick those you are in love with and bookmark them so you can empty the carts the day sales start:
We have lots of Baby items:
Some Ladies hand bags for you:
Do not forget to buy our best selling products:
---