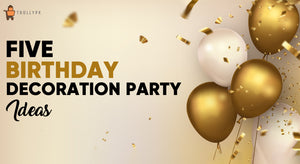 5 Birthday Decoration Party Ideas
Whenever it comes to your birthday or your loved ones. You always want to be pleased or make them happy with presents or giving a party. But, when it comes to birthday decoration, you always want to be more personalized and unique to celebrate your loved one. There are lots of ways to make it more memorable. For kids, select types of birthday themes; Race car themes, Barbie doll themes which is easy to make and buy.
Lots of choices are available depending on your choice
Birthday Decor Ideas
A great deal into planning a birthday party event. The pressure gets higher if it is your child's first birthday. The whole family wants to attend the celebrations. However, if you are planning for an adult, things go differently. You need to select the birthday themes according to your need which would excite her/him. However, these birthday party decorations ideas help you out. Let me tell you in detail.
Choose the suitable birthday theme.
Make Birthday Balloon Arch
Setting up the Backdrop
Photo Booth
Use Glitter
Choose a Suitable Birthday Theme
Decorating a birthday party can be comprehensive. While, if you select a particular theme, you have almost done half of your job. There are enough choices of birthday party decoration themes that you could choose . For example, go for the car theme if your child poses with cars.
Everything will be identical to the theme for the birthday party decorations and birthday balloons to the cake.
Make Birthday Balloon Arch
No need to recruit the event management firm to set up for the birthday decorations at home. You can do it yourself with your creativity. Without birthday balloons, there is no birthday party. The first thing to set up at the entrance is the balloon Arch, and it will make your birthday to the next level. 
Setting up the Backdrop
For arranging the successful birthday party, you need to place the center table where the cake will be cut. The backdrop of the cake-cutting ceremony is essential. Everyone starts capturing pictures. You can go for light colors on the white fabric.
Photo Booth
Photo booths are an excellent enjoyment option for guests. Everyone wants to click a photo or twice at a birthday party to capture good memories to adore later. If it is a child's birthday party, you can add a fun banner, some attractive pictures such as rockets, cars, and fairies for the kid. 
Use Glitter
Want to give a fabulous décor to your birthday set up? Use glitter for some sparkle! Once all the balloons are filled with air, stick them in glue and roll them in glitter. When you hang them together, they give a shimmering effect that looks stunning, especially if you host a birthday party at night.
Conclusion
However, you're prepping for a birthday party, or you're going and want to add some decorations to your home to make sure everyone is feeling well, when you throw party for relay on these suggestions it will help you to make easy choice.

Visit Trollypk.com to avail Sale on different trending products in Pakistan.
---