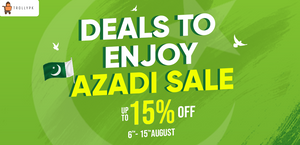 Deals to Enjoy Azadi Sale 2021
Hey Pakistani's !
The wait is over. Azadi Pakistan day is just around the corner! This means that you get to enjoy massive discounts, exciting deals. All your favorite picks will be available on Trollypk.com with up to 15% off price! And we want to make this an even more exciting experience for you. Yes, it's time to go shopping!

Trollypk is offering Azadi sale on different products so why are you waiting for it?. Just click and enjoy the Azadi offer with your loved ones
Check out the list Independence Day Azadi Sale !

Your Beauty is in Your Eyes
On the occasion of 14th August celebrations. Women and Girls have different events at universities, Schools, or parties at home. Everyone wants to look prettier, but if your eyes don't look shiny it is not good for your look. One of the most famous lines we always hear is " Your Beauty is in Your Eyes".  Why don't you choose an exclusive Pack of 4 Deal for your Eyes.
Get The Perfect Skin with MUICIN Deal
Planning to go outside, choosing your 14 August dresses but what did you do for your skin?. Just a simple makeup? You look pretty with makeup. But Large pores are a super common skincare complaint, ranking right up there with acne and aging skin. While they're a completely cosmetic problem, large pores are still annoying. Make your Skin Pores free and Grab attention with your pretty look. Choose Pack of 2 with an exclusive offer.
Make Good Skin Great
If you look better you feel better. However, you have tried all the products to make your skin from good to better. Unfortunately, you have not tried baby v9 cream and sea weed facial for skin. Here on Trollypk you will get a pack of 2 at your doorstep.
IT's All Quick and Easy
We have just Finished with the EID-Ul-ADHA and completed all the stuff that we had to accomplish. Now, It's time to Enjoy! Planned a BBQ party and Get the preparation done as it all quick and easy with the Portable chopper and cut your meat with the Swifty sharp Motorized Knife Sharpener.
BABY ACCESSORIES
Every parent wants to see their baby healthy. children not so good at eating. Are you worried about how to tackle your baby diet?. New baby has problems while growing teeth. Babies mostly put their thumbs in their mouths. Why don't you choose Baby Fruit Pacifier Soother Teether to give fruit ingredients to your child.
14 August Face Painting
Everyone has different ways to express their feelings for their country. We saw different Independence day ads and commercials on TV. However face painting is commonly used to paint on Kid's face.
In this pandemic staying home and safe are important for you as well as your family. But Azzadi Sale (14 August dresses online shopping and much more) are essential to give yourself a fresh break.Trollypk.com is giving Independence Day sale you with up to 15% Off.
Happy Shopping!
---