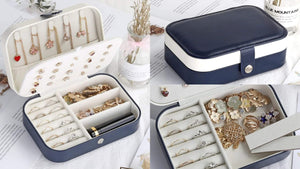 Affordable Jewellery Box To Store Your Timeless Pieces
Are you tired of your jewellery being scattered and disorganized? Do you happen to lose a lot of pieces here and there? Do you wish that you had a pretty box to store it? If yes, then a brand new multi-function jewellery box is something that you need! 
A lot of university-going students/working moms need everything organized; even their jewellery to be right in front of them when they wake up to go to university/work in the morning.

Organizers such as these really help people who are in a rush to be some where, save some time. People who are travelling can also benefit from this product as it is very handy. It is portable and that means you can easily carry it around in your purse or hand-carry.
This beautiful jewellery box is available on trollypk.com. Here are 5 reasons why you must buy this multi-functional jewellery storage box:

It Is Spacious
This jewellery box may look petite, but it has a lot of space. It has enough room for various jewellery items such as ear studs, bracelets, rings and earrings. One side of it is also adjustable which means that one can store big chunky rings or watches in it.
Beautiful Inside And Out 
The box is extremely sleek from the outside; it is a lovely shade of blue. However, the inside is completely white which can easily be stained if not used with precaution. The inside can be adorned with a lot of jewellery of your choice or maybe your most loved pieces of all time that might as well have cost you a fortune.
Durability
Another great feature of this product is its durability, of course. It is made out of strict material from the outside which makes it a long-lasting box. The inside is delicate yet made of strong material. This means that it will not face any wear and tear for a very long time!
Convenience
The jewellery box is an item of convenience to have on your dressing table. It is convenient to open the box as it has a hassle-free handheld lock button that opens easily. It takes just a few seconds to reveal your precious jewellery. 
Multi-grid Ear Stud Plate
This product has a beautiful multi-grid ear stud plate to store ear studs in it. You can store up to 10 pairs of studs. One can also use the ribbon handle on the stud holder to open up a nice little space behind it. It can hold 5 bracelets and it also has a small space to hold other accessories. 
This is why this multi-function jewellery box is such a good pick for anyone and everyone who needs their jewellery to be sorted and organized, be it day to day pieces to timeless pieces, we have got you covered!
This product is spacious, beautiful, convenient to use and has a multi-grid ear stud plate. Who wouldn't want all of that? The skillful combination of necklace hook and net pocket, receipt, and the display is out of this world!

Grab yourself this easy-to-use portable jewellery box now from trollypk.com and save a lot of time every morning while you are getting ready for the day or picking jewellery for office or university!
Why Choose Us?
Many websites might as well offer similar looking products, but we guarantee a smooth customer experience at trollypk.com and exciting discounts that you can avail in a matter of minutes by visiting our official website, making your experience worth a while.
Happy Shopping!
---