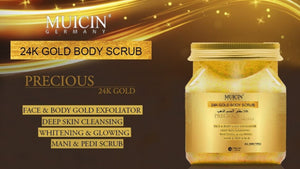 A Spa Day At Home With Muicin's 24k Gold Face & Body Exfoliating Scrub
Do you have rough, dry and dull skin? Then get the 24K gold scrub and make your skin shine like a 24K gold bar! The body scrub will remove all of the dead cells and moisturize your skin, leaving it super soft, radiant and healthy. With regular use, the 24K scrub will refine the texture of your skin and make it glow.
The Power Of 24K Gold
This Scrub is expertly formulated to moisturize, brighten, and intensively repair skin; made with REAL 24K GOLD foil which was highly used in anti-aging skin care solution.
24k Gold is one of the main ingredients of this face & body scrub and facial scrub, your skin will look radiant and bright after few sessions; also, very effective as an acne scrub.
If you have acne and acne scars, start exfoliating your face with the 24K gold scrub. Gold has anti-inflammatory and anti-oxidant properties, so it will reduce your acne and smoothen your acne scars. The 24K gold scrub is the best skincare product if you want to have a flawless, imperfection-free skin.
History of 24k gold scrub
The usage of 24k gold particles in skin care especially scrubs go back to ancient times. Even in old eras women tried new and exciting things to enhance their beauty and strengthen their skin elasticity to keep the aging process at bay.
24k gold particles are said to have been first amalgamated in Roman times.
Egyptians believed the healing powers of gold could cure all manner of physical, mental and spiritual ailments. Romans used gold preparations for treatment of skin lesions and sores. Cleopatra wore pure gold for a radiant complexion. Gold was used by ancient civilizations to remedy skin problems.
Benefits of 24k gold
Gold is one of the softest metals and is easily absorbed into the skin; thus, influencing it at the cellular level. It also helps to reverse the oxidation damage to the collagen fibers, which in turn accelerates the regeneration of healthy new cells. This body and face scrub provides a natural luster and youthful radiance to all skin types.
The face scrub and body scrub will lift and firm your skin to reduce the appearance of fine lines and wrinkles. It will also help brighten skin, giving it a healthy glow.
Gold is said to fight the acne problems as mentioned above. It works well on closed pores and purifies skin from the oil and dust particles that can affect the skin and cause pimples/acne. This 24k scrub is expertly formulated to moisturize, brighten, and intensively repair skin.
Nobody and nothing can stop aging, but the 24K gold scrub will definitely slow it down. The body and face scrub will increase your blood circulation and the production of collagen. Soon, your skin will be smoother and your fine lines and wrinkles will be less visible.
A Spa Day At Home
Why spend a fortune at a spa when you have a luxurious treatment at home? The 24K gold scrub will offer you an unforgettable exfoliating experience and the results will be amazing, even from the very first use! If you want to have a 24K spa experience daily at home, the MUICIN 24k Gold Exfoliating face and body scrub is all you need!
WHY MUICIN 24K Gold Exfoliating Face and Body Scrub
Muicin cosmetics are one of the bestselling on Trollypk.com. Based on customers reviews we can recommend these products blindly. The products are NOT heavy on the pocket and deliver what they promise. Like other products, this 24k gold scrub by Muicin is a MUST HAVE too. Try for yourself and you won't regret it!
Happy Shopping!
---