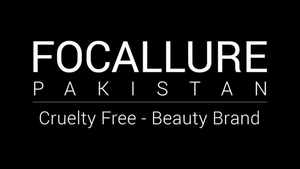 5 Reasons to Pick Cruelty Free Cosmetics Today - Focallure Pakistan
Makeup, moisturizer, and skincare products are a few of the many things that we use daily so that we take care of our skin and enhance its appearance. Buying cruelty-free makeup may seem a bit of a hassle in the beginning but it is definitely worth the time and money. You ask why? Well, let's understand what cruelty-free means and why to buy Focallure Pakistan Products.
What does Cruelty - Free Mean?
Cruelty-free means to adapt to a vegan and inclusive lifestyle. Many companies test formulas on animals in the lab such as rats. They are used for experimental purposes and are subjected to toxic chemicals which could ultimately be the cause of death of the poor animal. Therefore, to prevent this practice, cruelty-free makeup is an ideal choice to adopt.
Why Buy Cruelty-free Makeup?
1. They are usually free of chemicals
Cruelty-free makeup is free from harmful and toxic substances like parabens, synthetic dyes, and sulfates. These products have been proved healthy for skin so it reduces the chances of breakouts, allergies, and skin related issues. Ultimately you will be saving the lives of animals plus looking out for your skin too.
2. Making Conscious Choices
Choosing your brands and products based on inspiring values that matter to you adds another dimension of complexity and purpose to your daily life in a way that can have a positive impact on the world. Be mindful of your surroundings and the choices you make every day!
3. They are Pocket-Friendly
Cruelty-free companies usually are very cost-friendly and don't cost an arm and a leg. Many international companies sell remarkable products that do not have animal testing so that way you will be saving animals and your hard-earned money too.
Matte Lipstick - #1 Cardinal - Focallure Pakistan Only Rs. 449
Focallure Pakistan Available on Trollypk.com
Focallure's cruelty-free products are easily available in Pakistan on Trollypk.com. It is a Chinese brand that uses halal ingredients while producing their products. The product line is cruelty-free and also does not contain any harmful ingredients. 

The brand promises to enhance your experience with its top-notch product line's quality while being pocket-friendly. With their wide range of lipsticks, eye shadow palettes, foundations, and much more, you have plenty of options to choose from.
4. The Animal Testing Procedure is not Necessary
It has been proved that there are over 7,000 cosmetic ingredients already proven to be harmless and non-toxic. The only reason these companies need to test on animals is because of the new ingredients that are being introduced. The European Union, Switzerland, India, Israel, South Korea, and New Zealand are a few countries that have made the safety of animals and humans their first priority.
5. The Power to Change the World
If you are choosing not to buy from brands that follow the procedure of testing on animals you are sending a message that animal testing is inappropriate and unethical.
Once people stand united and take action, businesses tend to change their path. In this way, Cruelty-Free makeup will become the norm. Therefore, one must spend money wisely and where it is needed. There are thousands of wonderful products that do not undergo animal testing and they make an ideal choice.
Speaking of Focallure Pakistan, the product line offers stylish and sleek packaging. What's interesting is that the company has made a conscious effort to mention a set of instructions on the boxes as to what product should be applied and where.
10% Discount for New Customers! 
The Trollypk website is offering a 10% discount for its new customers and you can always check for products on Sale Online. So what are you waiting for? Pick up your phone and start shopping today! ✓ Genuine Quality Product ✓ Fast Delivery across Pakistan ✓ Cash on Delivery!
---