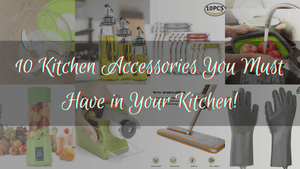 10 Kitchen Accessories You Must Have in Your Kitchen
It is a prevalent belief that it is much more convenient to cook at home than it is to eat out. This is why having a well-stocked kitchen with basics is the best way to make home cooking food enjoyable and favorable. Another wise thing to do is to have accessories that will help you in the kitchen.
In this article, we have listed down such products from Trollypk.com. The website is offering a whopping 10% discount for their newest customers. Enter discount code FIRSTORDER at checkout.
A floor cleaning mop is essential in day to day life. Your kitchen is incomplete without this particular item. With this item, it will be easy to clean every corner of your kitchen. In fact, this double-sided lazy mop is not just designed to clean the floor, but also for cleaning the wall, furniture even air conditioning surfaces.
Knife Sharpener available on trollypk.com quickly sharpens your knife and is incredibly easy to use. The built-in guide holds the blades at the perfect angle, and a catch tray underneath collects all the metal shavings. This particular item will work on all kinds of knives plus scissors!
People around the world are now investing in a rechargeable blender that they can carry on the go! Need a protein fix after the gym? No problem! Carry this in your bag and make your protein shake conveniently without any hassle. You can also make smoothies on the go too!
We all love deep cleaning our homes once in a month but the process can become tedious and exhausting with an ordinary brush. Use this rechargeable cleaning brush that is available on Trollypk.com and benefit from faster and easier cleaning.
Can't get rid of tough dirt? No problem! We have got your back. Deep-cleaning microfiber floor mop is available on exciting prices on the website which removes and absorbs tough dirt and grime effortlessly!
You might think you don't need an oil pouring dispenser storage glass bottle but this product will change your life altogether! Buy economic size oil containers instead of small feasible ones, in this manner you can save money plus makes it super easy to store oil. 
During this pandemic, we are looking for ways to wash our fresh produce and get rid of any bacteria we might as well have brought home. These foldable baskets do the job quite easily! Wash and rinse your fruits and vegetables in this amazing basket available on Trollypk.com.

Even though the world has greatly evolved and dishwashers are as important as the microwave in the kitchen, many still can't afford to buy them. Washing dishes with all kinds of dish soaps can make your hands dry and patchy. To avoid the trouble, silicon magic reusable gloves with scrubber are ideal for anyone who washes dishes by hand.
These can be used for other purposes too such as in the bathroom but make sure to not use the same pair in the kitchen.
No matter how much space you have in the kitchen, you will always need some form of storage bags or boxes to be used. Trollypk.com is offering 100% brand new and high-quality reusable mason jars at an amazing price. These are easy to operate, safe, and reliable. A must-have! You can store all kinds of spices, nuts and so much more.
For working moms who understand how time is gold, accessories that can save time are great! This Vegetable Meat Chopper Easy Spin Cutter is perfect for slicing boneless meat/vegetable/fruit/onion and garlic salads, cutting various baby foods, chopping herbs, vegetables, pesto, and more in just a matter of minutes with 3 ultra-sharp stainless steel blades for fast and uniform chopping.
---